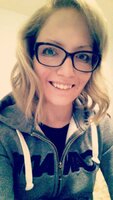 Corrie Lyne DeGroot
No words can express the depths of our sorrow as we announce the sudden and tragic passing of Corrie Lyne DeGroot on November 24th, 2021, just before her 34th birthday. Born in Sarnia, Ontario, on December 27th, 1987, she was the beloved daughter of Hélène and Andy DeGroot.
Corrie trained and worked in office administration. Small, but mighty, Corrie was a hard worker, determined, dedicated, very well-organized and independent. She was an incredibly generous, thoughtful and caring soul, always wanting to help and encourage others. She had a great sense of humour, and an infectious, beautiful laugh. She loved her daughter dearly.
Corrie was predeceased by her younger brother, Christopher DeGroot, just last year, as well as by her grandparents Florian Bernard and Aenton and Ida DeGroot. She will be deeply missed by her sweet daughter, Nadine; her parents; sister Jocelyne and her daughter, Ariane; sister Michelle and her daughter, Camilla; grandparents Ghislaine and Bernard Goure; aunts, uncles and cousins; and good friends.
Visitation will take place at DENNING'S OF FOREST, 9 James Street South, Forest, Ontario, on Monday, November 29, 2021, from 6:30 pm – 9:30 pm. Registration is required to attend; please visit https://signup.com/go/zgheGcS A private Funeral Mass will follow; those wishing to attend are asked to contact the family directly. Online condolences may be left at www.forestfuneralhome.com