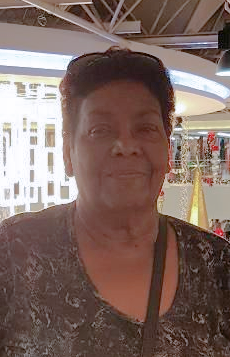 Obituary of Lystra Jean Balwah
It is with heavy hearts that the family of Lystra Jean Balwah announces her passing at BlueWater Health on Friday May 14th, 2021 at the age of 81. A Globe trotter beside her husband Cyril, a fashion enthusiast, excellent cook, Lystra lived a very full and fulfilling life doing all that she desired to her hearts content. She is now finally able to unite with her one and only true love Cyril.
Words cannot explain how Lystra touched each and every one of our lives, even meeting her for the first time, to knowing her for years, or even a family member, she always provided the best advice, knowing exactly what to tell you when you needed to hear it. We can all attest to this and remember the way she touched our lives.
Family meant everything to her. It was one of her strongest core values. She had such a love for family and most importantly family traditions, such as, her annual "Boxing Day Family Lime". Nothing made her happier than seeing everyone come together and enjoy themselves, eating and having fun together. One of her favorite pastimes was "playing cards", with the adults and her Grandchildren.
Lystra was the daughter of David and Christina Abdool, sister of Lorna, Leo, Lucille, Lena, Patricia, Jemma, Shirley, Terry and Maureen. Wife of deceased husband Cyril George, mother to Susan, Dianne, Ronnie and Andy. Grandmother of Nakeisha, Nikolaus, Tyson, Taija, Tyrone, Micah, Kristoff, Aeden, Andelle, Maya Jean, Kiera, Ronnie Jr., Lindsay, Bridgette. Great grandmother of Jeron, Caleb and Caiden, great great grandmother of Levi, Olivia and Ava Jean.
Keeping up with Lystra's wishes, cremation has taken place. A special thank you to the medical staff at Bluewater Health for their outstanding care and support.
She left us with some amazing memories and has touched the lives of everyone that knew her.
We must remember that she had such a strong faith in the Almighty and she is now at peace in the arms of Jesus Christ. She is smiling down on us, happy to see all of her family together, keeping strong, courageous and supportive of each other. We know that she was never one for too much drama, fuss or focus on herself. She lived by the simple tenet of selflessness, always putting others before herself. It is not often in life that you come across someone as special as her, so let us go on to celebrate her life and be thankful that we were able to know such a special lady.
The fact that you are no longer here will always cause us pain, but you are forever in our hearts….. Until we meet again.
Online condolences may be left at www.forestfuneralhome.com Funeral arrangements entrusted to DENNING'S OF FOREST
Share Your Memory of
Lystra