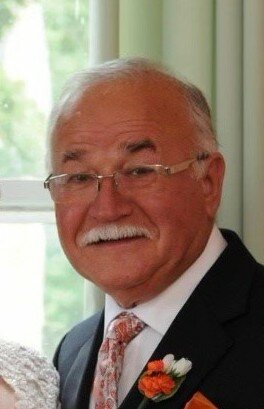 Obituary of Rev. Michael Fintan Doucette
It is with profound sadness that the family of Michael Fintan Doucette share the news of his passing on Sept. 27th, 2021.
Born on June 6, 1949, in Kippins, Newfoundland, he was 72 years old. He is predeceased by his parents (Margaret and William), brother Jimmy, grandson Baby Fintan, and niece Sheila.
His passing will leave a void for his family and friends, but they will find solace in the innumerable things they learned from him. His loving wife Lois; his children Michael (Kim), Joseph (Tara), Patricia (Murray), Richard (Nicole); his grandchildren Cody, Kaitlynd, Ria, Austin, Gage, Shaeleigh, Trinity, Brooke, Hunter, and Joseph; and great-grandchildren Violet, Lilah, Evelyn, and Halfdan. He is also survived by his siblings Anita, Helen (Curt), Jeanette, Roy (Betty), Jacqueline, his sister in law Janice, and his many nieces and nephews.
Shortly after his mother died in 1952, Fintan and his brothers were taken to Mount Cashel Orphanage in St. Johns, Newfoundland.
After leaving the orphanage, he left the Rock in 1966, with about $10 and a train ticket, to join his brothers, Roy and Jimmy, in Toronto.
Within a year he moved to St. Catharines. One day, unbeknownst to him, he was noticed by a young woman, who upon seeing him for the very first time, declared to her sister, "I am going to marry that man."
His course was set: he completed his studies at George Brown College in 1968, they were married in 1969, and he completed his apprenticeship in 1970.
By the time he became an Ordained Minister in 1978, they had four children.
As a father of a young family, Fintan continued his life working to support them. His desire to provide his children with a better life than he had experienced, coupled with strikes and lockouts, prompted him to go off to work in places like New Hampshire, Espanola, Pickering, Sudbury and any other place was necessary.
He enjoyed nature: whether hunting, fishing, cutting wood, or just walking through the bush, he was a genuine outdoorsman. Camping was a regular part of family vacations; hunting and fishing trips with his children were a major part of their childhood. All of his children acquired an affinity for the outdoors and an appreciation for nature.
In addition to work and family, volunteering at the church was a part of his life until his passing. Whether it was running the Sunday School, delivering sermons, leading bible study, or providing counselling, Fintan was always willing to devote his time and effort to help others.
Fintan's life was an example that, "A man is what he does, not what he says". He lived what he believed. His life will be cherished and celebrated by those who knew him for the things he did, the way he moved through the world, the way he treated people, the way he made people feel, and the experiences he helped to create for other people. More than anything, he was a role model. The lessons he taught were not delivered in words; his lessons were demonstrated every day in everything he did. He was a man of selflessness, temperance, integrity, humility, but most of all, he was an example of how powerful unconditional love can be for others.
Visitation will take place at DENNING'S OF FOREST, 9 James Street South, Forest, on Thursday, September 30, 2021, from 2:00 pm – 4:00 pm & 7:00 pm – 9:00 pm. Please register to attend by visiting https://signup.com/go/BAwrbMx. A Funeral Service will take place on Friday morning, October 1, 2021, at 11:00 am at Faith Builders International Church, Eagle Drive, Kettle Point First Nation. Please register to attend by visiting https://signup.com/go/BAwrbMx Interment to follow at Beechwood Cemetery.
For those who wish, memorial donations may be made to the Hospital for Sick Children or to the charity of choice would be appreciated by the family. Online condolences may be left at www.forestfuneralhome.com
Share Your Memory of
Rev. Michael