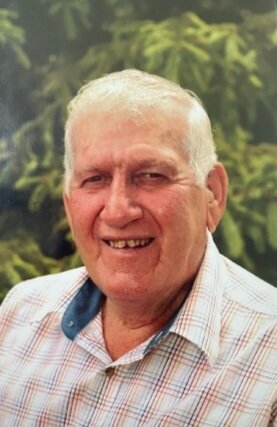 Obituary of William Laverne Garside
Garside, William Laverne
William Laverne Garside, of Arkona ON, passed away peacefully on April 29, 2022 at Strathroy Middlesex General Hospital with his family by his side at the age of 82.
Son of the late Robert Sr. (1961) and Edna (1962) Garside. Beloved husband of Marilyn (nee Henderson) Garside for 62 years. Father of Steve (Kim), Larry (Joan) and Greg (Misty). Proud grandfather of Kori (Kevin) Woods, Lauren (David) Sooklal, Ashley (Brad) Herrington, Garrett Garside and Caitlyn Garside. Very proud great grandfather of Caleb and Sophia Woods, Hunter and Lucy Sooklal, and Addy and Leeson Herrington. Step-grandfather to Jolene, Jamie and Christopher. Predeceased by brothers Robert (1994), Ross (1995) and Alvin (2009). William is survived by many nieces and nephews.
In 1960, Bill left the Garside family farm on Confederation Line in Warwick Township and began his working days doing auto body repair for Bill Trenouth in Watford. Soon after he married Marilyn Henderson and moved to Arkona where he began work as a heavy equipment operator. Bill worked for several construction companies as well as the Township of Bosanquet. During this phase of his working career he travelled throughout southwestern Ontario working on projects that involved infrastructure and drainage upgrades in many municipalities. There were many long, hot, dusty, diesel smoked filled days spent on the bulldozer. Each job completed to the satisfaction of the customer.
Bill was a "fix it guy". His garage door was always open to those in need of his mechanical abilities. Many a day, after a twelve-hour shift, he would come home and have a delicious dinner prepared by Marilyn then repair a neighbour's lawn mower, chainsaw or Tiller. There wasn't anything that he couldn't fix mechanically. He tinkered with antique clocks and restored vintage tractors and farm equipment, always coached along by his brothers Robert, Ross and Al. His sons always made sure there was a bicycle, Motorbike, snowmobile or car to fix when things were slow. Another pastime was racing his "ponies" at the local tracks with his good friend Bernie Geerts of the Weeping Twin Ranch. For 29 years he was an active member of the Arkona Volunteer Fire Department. He spent many hours at the arena with the boys in minor hockey days.
Papa was a hunter, from a young age hunting rabbits on the home farm near Bear Creek. He graduated to hunting deer at the "Mac and Jack Hunt Camp" near Restoule, ON with his buddies from the Watford area. His real passion was the annual black powder in December with his family and friends. In 2018 he joined the "Two Deer with One Shot Club" during the black powder hunt. This was a milestone that was achieved even after many serious health issues. Winter coyote hunting with his hounds will remain in his memory for eternity.
More recently papa had spent time with his grandchildren and great grandchildren. Time spent with the kids teasing and laughing will always be remembered by the entire family.
Special thanks go out to doctors and staff at Strathroy Middlesex General Hospital and University Hospital in London, as well as Dr. Connor Rice at the Arkona Medical Centre.
A Visitation will take place at DENNING'S OF WATFORD from 4:00-8:00pm on May 3, 2022, followed by a Funeral Service on May 4, 2022 at 2:00pm at the funeral home. *Masks are mandatory*. A private family interment will take place at Arkona Cemetery. As an expression of sympathy, donations may be made the Strathroy Middlesex General Hospital – Palliative Care Unit, the Heart and Stroke Foundation or a charity of your choice would be appreciated by the family. Online condolences and donations may be made at www.watfordfuneralhome.com.
Share Your Memory of
William