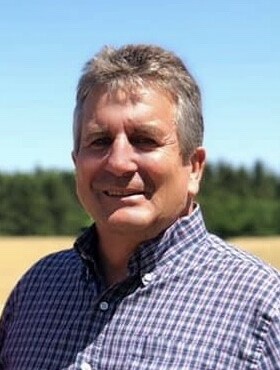 Obituary of Eugen Burgin
Eugen Burgin, 63, of Warwick, Ontario, went to be with his Lord and Savior on November 10, 2021. He passed peacefully, surrounded by his loving family.
Eugen was born in Islikon, Switzerland on October 20th, 1958 to Eugen and Anna Bürgin. He spent his childhood at Pappelhof, the multi-generational Burgin family farm. As the fifth of six children, Eugen grew up working on the farm and developed a passion for agriculture that he would carry for his entire life.
He graduated from Arenenberg Agricultural School and traveled to the United States to gain experiencing working on a large dairy farm in Wisconsin. This was the inspiration that would eventually lead him to emigrate from Switzerland to Canada.
As a young man he was actively involved in leadership for the Chrischona Youth Group in Frauenfeld. It was during this time of Christian service that he met his loving wife Silvia Schneebeli who survives him. They were married on June 24, 1983.
Eugen and Silvia emigrated from Switzerland to Canada in 1993 with their 4 children. They purchased a small farm in Forest Ontario, and their family grew with 2 more children born in Canada. For nearly 30 years, Eugen ran EUSI Farms. During that time he was able to expand the farming operation, diversifying into sugar beets, livestock production, and several other agricultural businesses. He was influential in introducing a number of innovative agricultural technologies and practices. His passion for farming was evident to all who knew him.
Eugen was also an active member of Forest Baptist Church. He was known for his genuine faith in God, strength of character, and commitment to his family. He is survived by his loving wife Silvia Burgin of 38 years, and his children: Debora Malachuk (Ethan), Salome Strickler (Tyler), Tabea Williams (Paul), Tobias Burgin (Allison), Rachel Gowans (Stephen), and Naomi Burgin. He leaves behind his grandchildren: Gideon, Anna Joy, Benjamin, Nehemiah, Titus, Lily, Gracelyn, Rosie, Calvin, Julianne, Heidi, Thomas, Theodore, Janie, Emily, Natalie. He is also survived by his siblings: Elisabeth Hallauer (Walter), Anni Harper (Albert), Ursula Bär (Ernst), Christine Freiburghaus (Peter), Ueli Bürgin (Irene). He is predeceased in death by his parents, Eugen and Anna Bürgin.
Visitation will take place at Forest Baptist Church, 19 Prince Street, Forest, on Monday, November 15, 2021, from 2:00 pm - 4:00 pm and 6:00 pm - 8:00 pm. Funeral Service to take place at Forest Baptist Church, 19 Prince Street, Forest, on Wednesday, November 17, 2021, at 1:00 pm. Registration is required to attend; please register by visiting https://signup.com/go/vjQbqyG Online condolences may be left at www.forestfuneralhome.com Funeral arrangements entrusted to DENNING'S OF FOREST
Share Your Memory of
Eugen