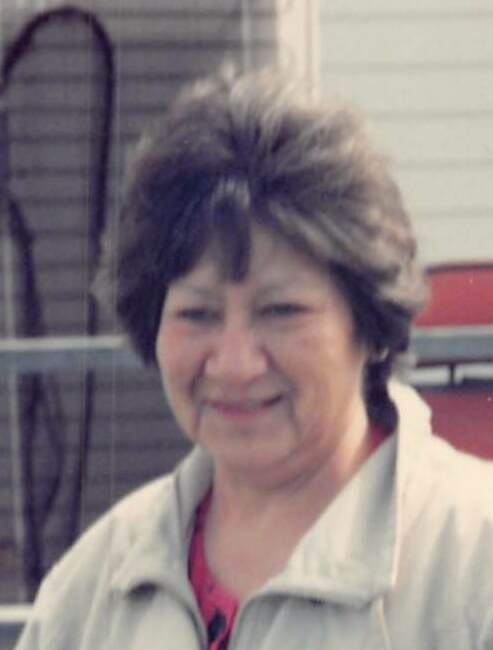 Obituary of Maureen Betty Thomas
THOMAS, Maureen Betty
Passed away at her residence in Kettle Point, Ontario on Thursday, December 30, 2021. Beloved wife of the late Fredrick "Ted" Raymond Thomas. Loving mother of Herman Kelly Thomas (Jennifer Merchant), Philip Bruce Thomas (Leeanne McCormick), Jackie Skzoda (Steve Skzoda), Dianne Thomas (Eric Mott), and the late Don Thomas. Survived by daughter in law Frances Gray. Grandmother of Jennelle Bannon; Chris & Christa Linklater, Angie Thomas, Mark Skzoda; Peter Skzoda, and Clayton Thomas; Great-grandmother of Will Bannon; Meg Linklater, Molly Linklater, Jocelyn Thomas, Jolene Thomas, Justina Thomas, Jacob Thomas
Great Great Grandchildren: Patience Hodgkin- Thomas, Icely Thomas (Red Deer, Alberta,) Jersey Thomas (Red Deer, Alberta), and Raina Thomas (Winnipeg). Predeceased by her parents Clara Bell Millken and Bruce Milliken. Sister of Marlene Cloud, Adrianne Bressette; Gerri Milliken; Vicki Henry, the late Joe Milliken, Len Milliken , Edna Milliken, Marie Johnson, and Norman Johnson. Also remembered by her nieces & nephews (Toronto), Mark & Saya Bach, Justice Bach, Marcus Bach, Lexus Bach, Raven Bach, Jayden Bach; Star Laford, Albert Laford, her special nieces: Corrine Brown, Liz Cloud, Lisa & Laura Milliken, Cinci Tribe; June Bressette, Deanne Bressette, Joanne Cloud, Diana Cloud, and Cheryl Cloud.
Betty was an Early Childhood Education worker at the Kettle Point Day Care Centre; she graduated from Lambton College, earning her ECE diploma and scholarship for highest marks; (Child Care Worker) - George Brown College (Toronto). She served on the Stony Point Final Settlement Agreement Committees, the Education Committee for Kettle & Stony Point First Nation, and the Elder's Council - Kettle & Stony Point. She was a decendant of Tecumseh, and a Residential School Survivor - she attended the Mohawk Institute - Brantford , Ontario. Betty was a recognized Elder in the community, and recognized in the community for her many years working with children. She loved to read & research, especially about community history.
Friends may pay respects to the family by visiting at the tipi at 6306 Indian Lane, Kettle Point, Ontario N0N 1J0 on Monday, January 3, 2021, at 2:00 pm. Covid protocols are to be respected.
Funeral Services entrusted to DENNING'S OF FOREST. Online condolences may be left at www.forestfuneralhome.com For more information please call 519-786-2401
Share Your Memory of
Maureen